NESS 2024 Calendar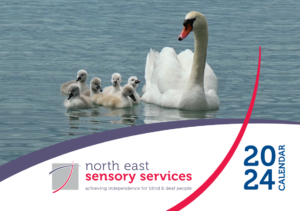 Our fabulous 2024 photography calendar is now available, with 12 beautiful images carefully taken and selected by Caroline from our NESS fundraising team.
On sale now for ONLY £7.50 each – or TWO for £12.00!
From the cover which features a majestic swan and its six gorgeous cygnets, to the 12 calendar pages with beautiful scenes from across the northeast of Scotland, there's sure to be a favourite amongst them.
Due to our generous calendar sponsors* and our NESS colleague, Caroline Rutherford, who kindly gave her time to take these amazing photographs, every bit of the proceeds from the sale of the calendars go directly towards the support services we provide to over 6,500 people with sight and/or hearing loss here in the northeast of Scotland.
You can buy the calendars from any of the NESS resource centres in Aberdeen, Elgin & Dundee, or by phoning us to place your order.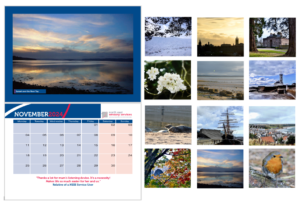 On sale at only £7.50 each, or two for £12.00!
(p&p £1.50 for 1 calendar; £1.90 for 2)
To place your order –
Tel : 0345 27 12345
Email : susan.mckay@nesensoryservices.org
*Sponsors :