Our 2023 photography calendar is now on sale, which features a beautiful selection of wildlife and scenic views, taking in areas in which NESS supports service users.
We know there will be a big demand for the calendar from our supporters, as every bit of the proceeds go directly to NESS, due to our generous sponsors*, and our NESS colleague, Caroline Rutherford, who kindly gave her time this year to take these amazing photographs.
You can buy the calendars from any of the NESS resource centres in Aberdeen, Elgin & Dundee, or by phoning us to place your order.  They will make a great gift for family and friends this Christmas, or as a lovely purchase for yourself.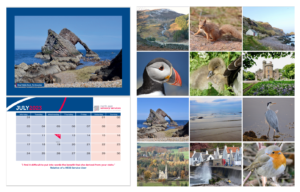 Selling at only £7.50 each, or two for £12.00!
(p&p £1.50 for 1 calendar; £1.90 for 2)
To place your order –
Tel : 0345 27 12345
Email : susan.mckay@nesensoryservices.org
Sponsors :